Hi Joy, et al.,
I have to lead off with a disclaimer: Personal tastes are just that... personal. So, some might find the examples below to be quite interesting or pleasing, and take umbrage at my disparaging comments..
Still, everyone is entitled to their opinion, including me.
Rich mentioned - revolting and dingy - colors earlier.
Both Rich and I (and as I recall, maybe James) spent a fair amount of time in Saudi Arabia and were frequent visitors to the various rug bazaars there. Ditto for Filiberto, except he was in Jordan.
There was a particular ilk of Baluch rug that began to appear (I am told) in the early 1970's and certainly ran through the 1980's and early 1990's, with colors that can only be described as ghastly - if - you are an aficionado of more traditional Baluch work.
There are hundreds of example images available on the web but most are on dealer or market websites, so we cannot make comments about them.
However, some enterprising individual put together a web page of Afghan war rug examples, most of which fit the - ghastly - bill to a T, in my humble opinion.
Note that I am not one to shy away from newer Baluch rugs if they have some endearing characteristics, but ghastly colors are just, well, ghastly.
For example, this classic with a flat muddy blue, an awful pistachio, an even more awful flat grey, a dull flat red, a flat medium bile green, a Day-Glo pink, and the everpresent (and in this circumstance, not so ghastly) brilliant orange: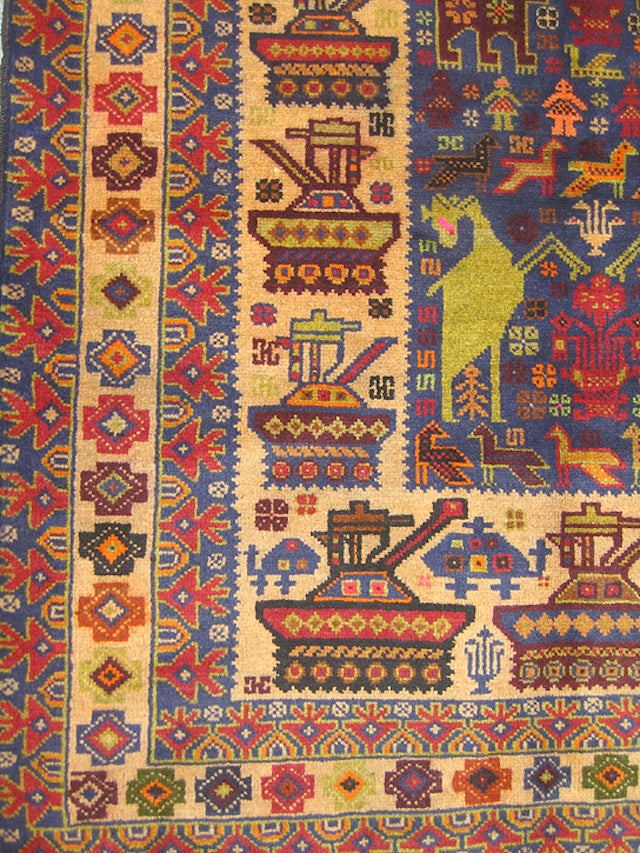 Here is a link to the page, where you can fill your eyes with examples of colors one would not expect to see very often on Turkotek:
https://io9.gizmodo.com/these-tradit...y-m-1683286534
Here's another, from a different non-market site:
There may be some time in the future when such pieces become treasured collectors items, but I suspect I will be long gone before then...
Regards
Chuck